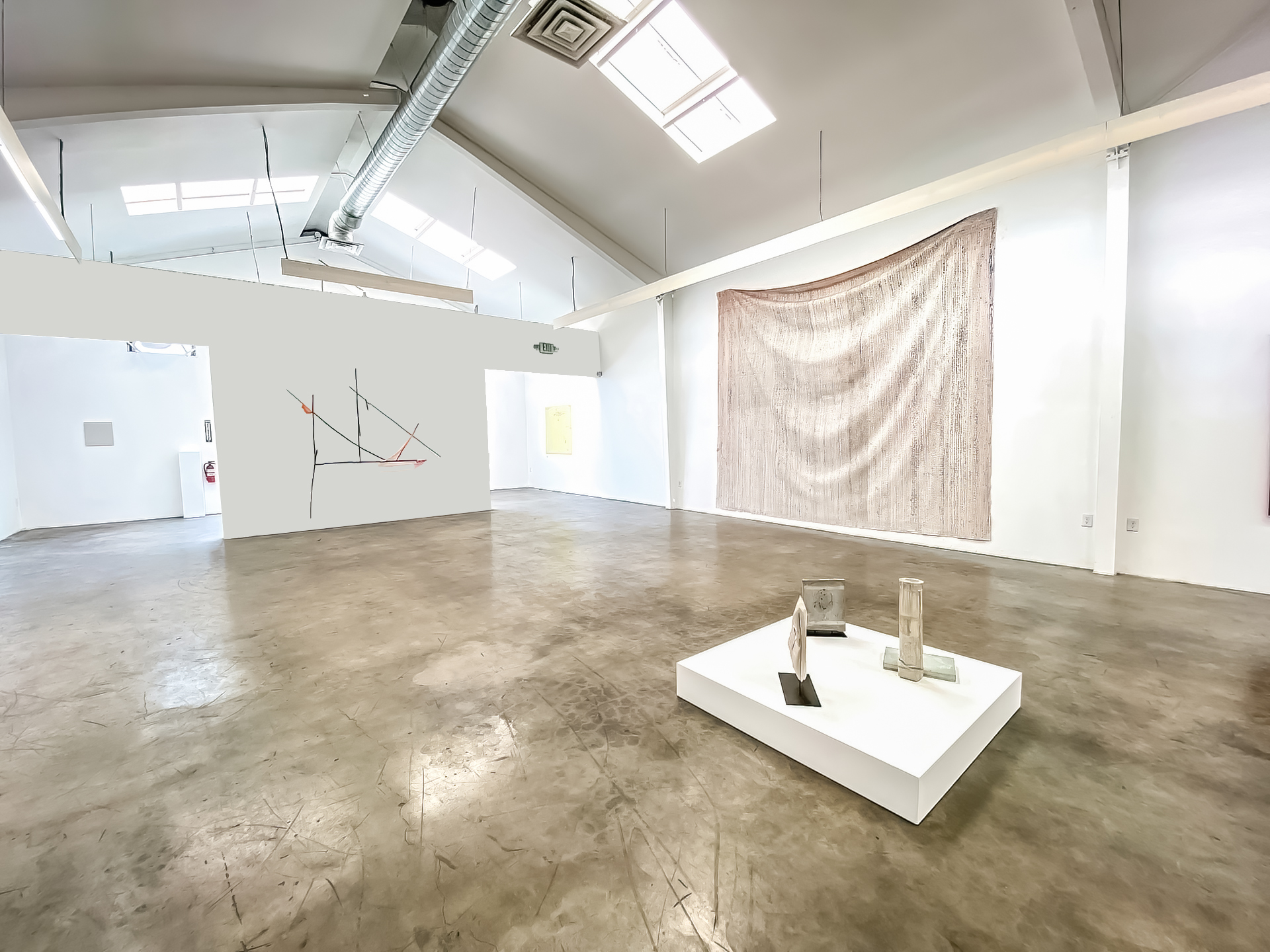 James Buss, Steve DeGroodt, Shirley Tse, Jae Hwa Yoo
Exhibition: November 13, 2021 - January 15, 2022
Reception: Saturday, November 13 from 5-8PM
A DELICATE TOUCH features a mixture of pantings and sculpture in a group exhibition that includes artists James Buss, Steve DeGroodt, Shirley Tse and Jae Hwa Yoo. Although these artists come from a varied backgrounds they find common ground in their interest the subtle interplay of the material.
Buss, DeGroodt, Tse and Yoo all emerged in the LA art scene during the later part of the 1980's and into the 1990's in a period where the experimentation was an artist's primary goal especially in the use and interpretation of material.
James Buss is formerly from Los Angeles where he spent most of his art career since attending CalArt in the mid 1980's. Although he moved to Texas a few years ago his "artistic" style is most closely related to his time in Los Angeles.
Buss' works are subtle in nature. He places marks or gestures on a variety of materials though different processes. In some cases it may be an imprint on plaster in others a reflection on a shiny surface or paint and ink transferred onto paper, each creating their own impression as if it was the artist's own fingerprint or signature marks the surface.
The initial gesture and imprint are important to his work, also the forensic properties of plaster as a medium of empathy and mimesis. The materialization of textual metaphor through casting and monotypes is a critical to his studio practice.
Steve DeGroodt is a Los Angeles-based artist known for his use of common material which often references music and language. Steve is also a musician and he often uses this background as an influence in his work.
DeGroodt's works are lyrical and poetic created from an interplay of color, surface and shape. His use of materials, often simple in nature, creates relationships that references the Psyche, as if the inherent quality of the material bears its own internal cognitive history.
Born in Hong Kong, Shirley Tse, has been a Los Angeles-based artist since she attended graduate school at ArtCenter in the mid 1990's. She emerged from a group of Los Angeles-based artists known for their use of alternative materials and subtle approach. She continues to evolve her practice behind these same principles creating more and more complex visual narratives.
Her works are poetic especially in the manner in which she blends the diverse range of materials. Some pieces are small sculptures while others are large in scale both however have similar interests in their material presence.
One of Tse's most ambitious projects was large scale installation she made for the Venice Biennale in 2019 in which she represented her birth country of Hong Kong. The project included a room size installation of wooden sculpture mixed with 3d prints.
Jae Hwa Yoo is a Korean born artist who has made Los Angeles her home for the last several decades. She attended art school both in Korea, at the renown Hong Ik University in Seoul, and at Los Angeles at California State University of Los Angeles where she received her MFA.
Yoo has embraced the blend of her artistic experience creating wonderful paintings whose roots can be found in both the Tansaekhwa movement from Korea and the minimalist movement in the US.
Yoo creates primordial, space-focused painting installations in which seemingly compulsive and assertive, yet meticulous and meditative marks and erasures, combine to reveal an abundant wholeness and presence residing in apparent emptiness.
Her works are painted on unstretched canvas on which she places hundreds to thousands of little marks; delicate little touches plastered across the canvas in subtle patterns. The pantings are installed in a very particular manner; each work is pinned to the wall exemplifying their material presence.
The largest paintings are often installed not taught to the wall but rather have a little kink them toward the top middle of the canvas. In doing so the painting has the smallest almost indiscernible wave in it, this wave slightly breaks the pattern of the multitude of marks creating a moire pattern in the painting, activating it surface. This breaking of the pattern acts as a wonderful metaphor of her dualistic artistic background.