MICHAEL O'MALLEY, EPHRAIM PUUSEMP, DOUGLAS TAUSIK RYDER, PONTUS WILLFORS
OCTOBER 3 - DECEMBER 5, 2020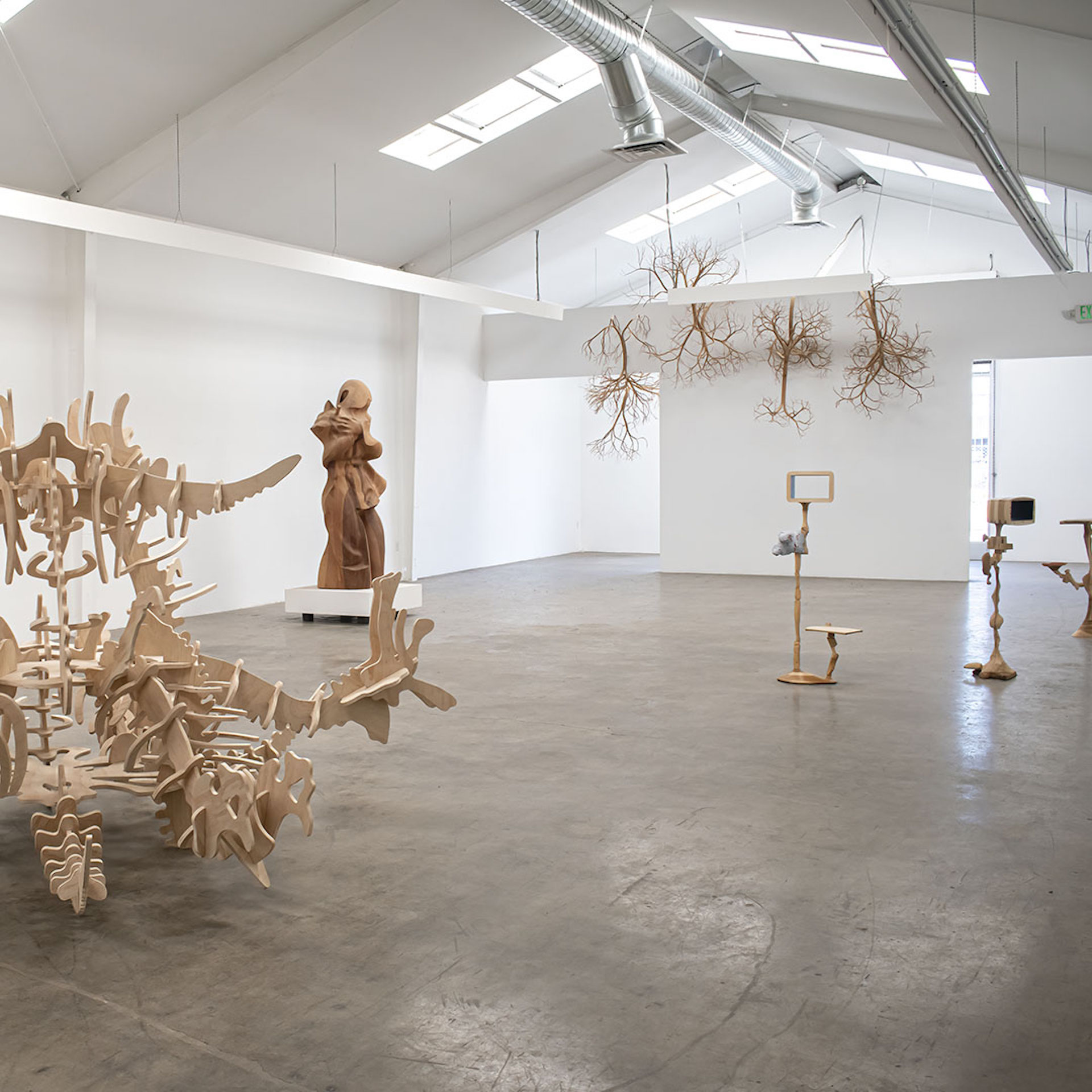 PRJCTLA is a new alternative space in downtown Los Angeles curated by Carl Berg.
The space will focus on both group exhibitions and solo projects featuring both LA-based artists and artists from around the world, in a collaborative program of international exchange.
The current focus will be on virtual exhibitions on a variety of platforms including the space's website, Instagram and also a 3D virtual platforms that will be accessible through the gallery's website.
The opening exhibition at PRJCTLA is "Organic Matter", a group show featuring works by LA based artists Michael O'Malley, Ephraim Puusemp, Douglas Tausik Ryder and Pontus Willfors.
The exhibition features a broad variety of wooden sculptures created by the artists, each characterized by their own distinctive approach to their practice.
Michael O'Malley's newest body of works: "That Kind", "For All My Relatives", "The Greater" and "The Listener", are sculptures created through a hybrid process of hand sculpting and CNC milling that exhibit a mixture of rougher and more refined surfaces. The objects are further tensioned by being both sculptures and having nominal elements of functionality to them.
Ephraim Puusemp's sculpture "Sepulture/Sculpture V" 2018, is an enlarged version of a series of sculptures based on skeletal plywood dinosaur toys he played with as a child. He introduced these same toys to his son which prompted him to make new sculptural works by rearranging the elements of the toys, thus creating new organic forms.
Douglas Tausik Ryder's "Myth of Miracles" and "Myth of Freedom"" are semi figurative sculptures that are formed from many independent elements which are individually sculpted and then put together forming a larger whole. Tausik Ryder is interested in revealing the record of the assembly and the process by which the sculptures were made.
Pontus Willfors' installation of "Trees" is about reforming nature through a process of taking wood planks and manipulating them into natural shapes. He cuts the planks, splitting them from a central core, mimicking the process of nature in which a tree gets split into smaller and smaller branches which emanate from its trunk.
Berg selected "Organic Matter" as the first exhibition for PRJCTLA as the perfect exhibition to be viewed virtually and especially on 3D platforms, which allow viewing the spacial work in a very natural way. The platforms also include links to videos and interviews with the artists.
As galleries are finding new ways to exhibit art, PRJCTLA is entering the art scene with innovative multimedia presentations of the artists' works.
PRJCTLA hopes to open its exhibitions to the public in the near feature.
For more information please contact prjctla@gmail.com